BIRA - What is it?
BIRA (braking improvement research association) is a group of individuals committed to designing quality braking systems for Audis. This organization was formed in an effort to design an alternative braking system for the 1991 200q, which came from the factory with the "UFO" style rotors. Porsche boxster monobloc calipers and A8 rotors were fitted to these cars. That was system 1. Since then, there have been six designs. The design shown here is "System 6" designed for the Audi A8.

BIRA is an organization, their web site can be found at www.bira.org. If you would like to upgrade your A8 to this system, you must be a member of the organization. Once you are a member, you have access to a very knowledgeable group of people in the BIRA Yahoo Group. It is closed to non members. If you interested in this upgrade, it's worth the one time $20 membership fee to learn more about it!

System Components
This system consists of the following:
Porsche 996 Twin Turbo Monobloc Calipers
Porsche 993 Twin Turbo Rotors
Brake Pads for the Calipers
Stainless Steel Brake Lines
Custom Built Caliper Mounting Brackets and Nuts
Custom Built Aluminum Rotor Hats
BIRA supplies the custom built caliper mounting brackets and rotor hats. The buyer of these components is responsible for procurement and installation of all other components. Installation is very easy, it's no more difficult than a front rotor/pad replacement. It's a lot more fun too!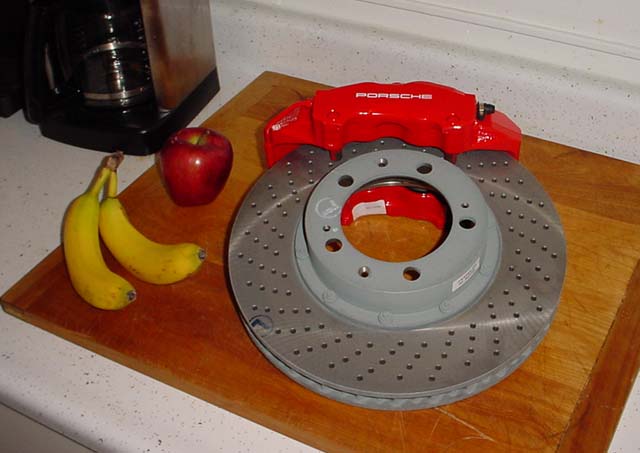 Mom, look what's for dinner! Porsche 996 TT calipers and 993 TT rotors. The steel rotor hat that is supplied with the rotor is removed and replaced with the BIRA supplied custom built aluminum rotor hat.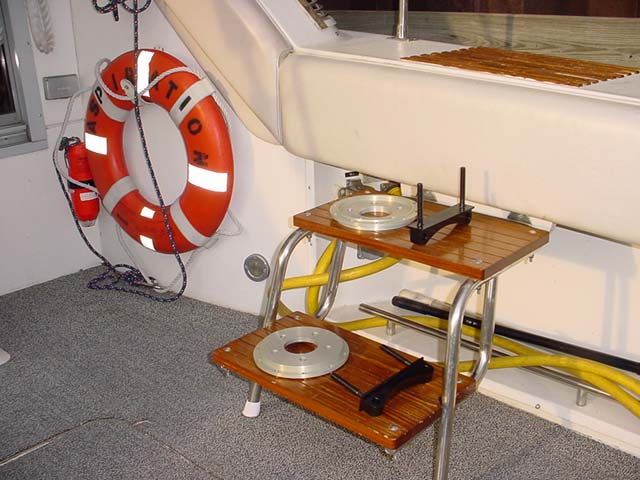 BIRA supplied custom built caliper mounting brackets and aluminum rotor hats. These components are of very high quality!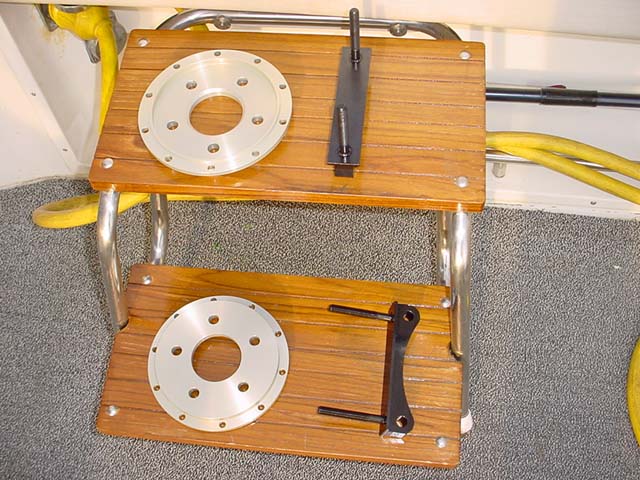 Porsche Components
Porsche 996 TT calipers and 993 TT rotors are utilized for the system. The 996 TT caliper is a monbloc design, meaning that it is a one piece caliper. Many other aftermarket brake upgrade designs utilize two or three piece calipers. The advantage of the one piece design is less flexing under severe pressure.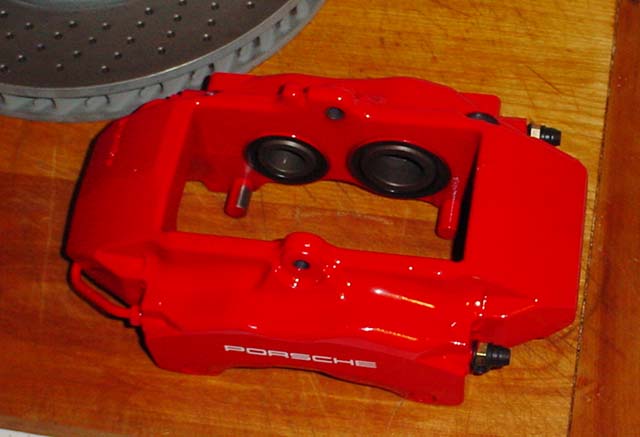 Porsche 996 TT Monobloc Caliper


The 993 TT rotors are 332mm x 32 mm. They come drilled from the factory. The rotor is two pieces, one is the actual rotor itself, which is bolted to the hat in the middle of the rotor. The factory steel hat is discarded and a BIRA supplied aluminum hat is used. This new hat sets up the proper rotor offset and bolt pattern (5x112).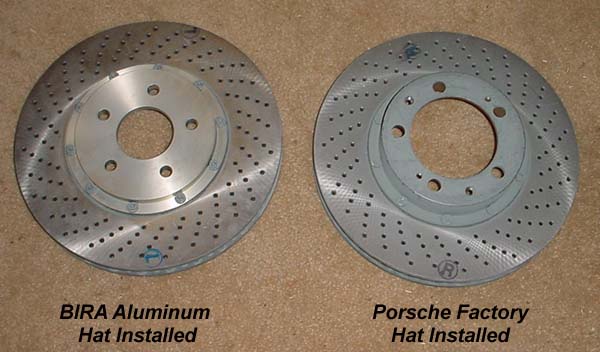 Porsche 993 TT rotor with BIRA installed hat (left) and Porsche factory hat (right). The BIRA hat establishes the correct rotor offset and bolt pattern.


The stock A8 rotors for the U.S. bound 1997-1999 model years are 312 x 25 mm. The Porsche rotor is 332 x 32 mm. This rotor is considerably thicker and has a larger outside diameter (O.D.). The rotor is not so large that the system won't work with 17" factory wheels, it will. Another great design feature of this system.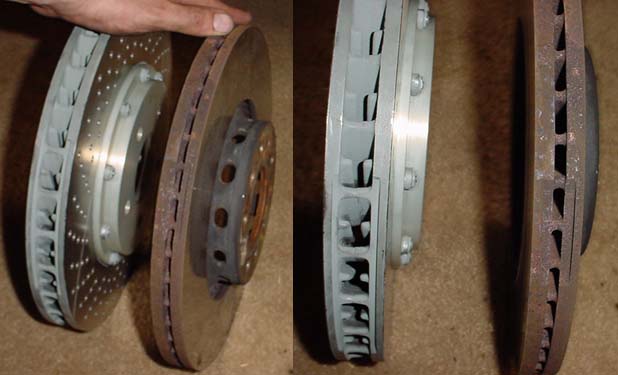 996 TT rotor with BIRA hat installed and the stock 1997-1999 A8 Audi factory rotor. One great design feature of the BIRA system is that it will fit under the A8 factory wheels. This is especially helpful if you use the stock 17" wheels for winter wheels.


Custom Brackets
The calipers require custom brackets to mount the Porsche calipers to the A8. The caliper mounting configuration is different from the stock A8 mounting configuration. The stock A8 caliper bolts mount axially relative to the car axle. The Porsche calipers mount radially relative to the car axle. Therefore, an adaptor bracket is required to mount the Porsche caliper.

BIRA uses a machined steel bracket with welded studs. Welded studs were chosen to ensure that the nut that holds the caliper secure will have a full thread engagement. If bolts were used in a threaded insert in the bracket, BIRA did not feel that there would be adequate design margin for the amount of thread engagement.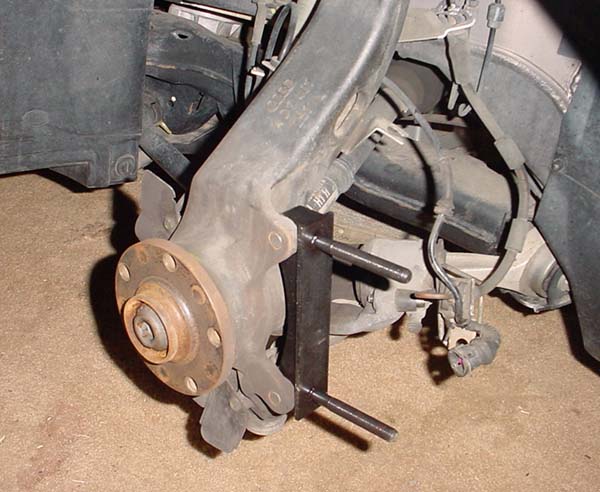 BIRA caliper mounting bracket. This is required to allow the Porsche caliper mounting configuration. Note how it bolts to the A8 hub carrier with the stock caliper mounting bolts.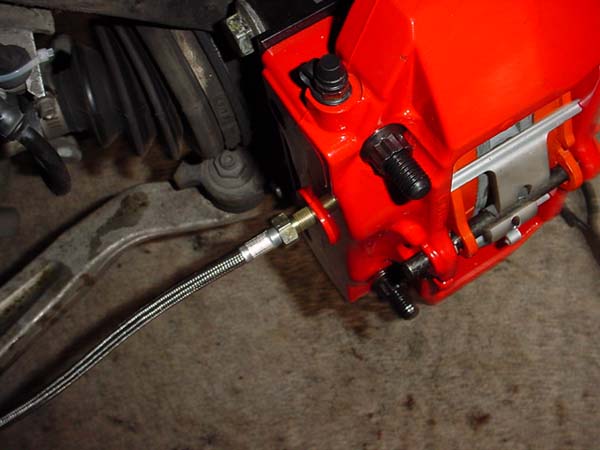 Porsche caliper mounted on custom BIRA bracket with new stainless steel brake line.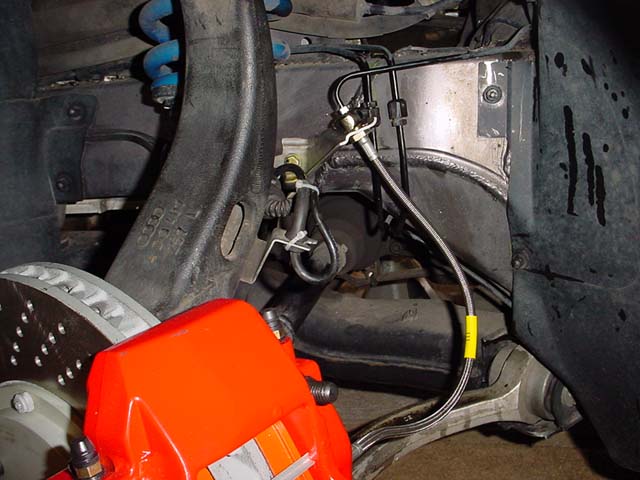 Stainless steel brake line replaces stock hard pipe/rubber line. Notice the stock brake pad sensors shorted out and tied up to prevent the brake pad warning light from coming on.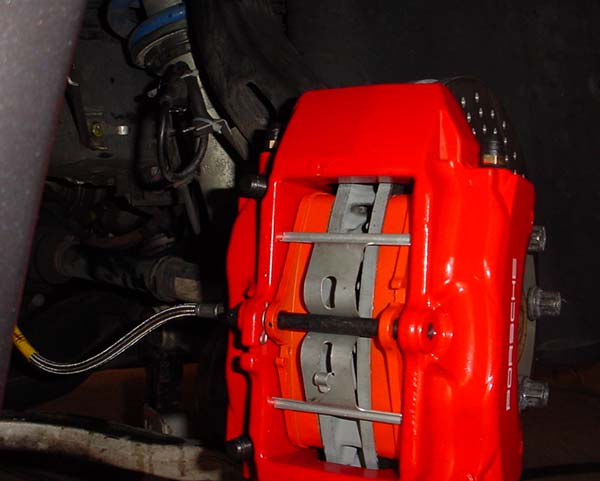 BIRA System 6 with Pagid Orange pads installed. These pads are high temperature pads for track use. Paul Waterloo uses stock 996 TT Porsche brake pads for street use with no squealing.


Cost of the System
This system is one of the most cost-effective, high end brake systems available for the A8. Approximate costs:

BIRA custom built brackets and hats - $800 (if a group buy is available, they can be $100 or so cheaper)
Porsche 996 TT calipers - $850.00
Porsche 993 TT rotors (pair) - $300.00
Porsche front pads - $185.00
Stainless steel brake lines - $50
Track pads front and rear (optional) - $400.00
Therefore, the total cost is about $2,185.00 without track pads, add another $400.00 for a set of track pads which are needed if you plan on tracking your car (why wouldn't you with these brakes?).

This system is so awesome, you can out brake almost any other car on the track with it and Pagid orange pads front and rear. No overheating, no pedal fade, just great braking! If you want to track your car, this is a great upgrade!